For those of you that don't know Telenovelas is Spanish for soap opera. And Telenovelas in Latin America, i.e. Mexico, don't last as long as our American Soap Operas (General Hospital been going on since 1963), maybe just four months or so and they move on to a new telenovela, usually using the same actor. Anyway, Power Rangers is a bit like a soap opera (romance, deaths, plot twists), but Super Sentai, Kamen Rider and other Tokusatsu are more so.
Latinos si saben que Telenovelas duran solo 3 o 5 meses pero en los Estados Unidos, soap operas duran mas que 50 años. Los Power Rangers son como telenovelas con romanza, muerte, y cambio de drama, pero los programas Japones como Super Sentai, Kamen Rider y otro Tokusatsu son como telenovelas mas que nada.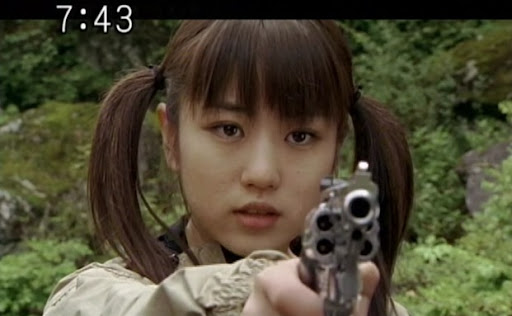 Drama Aumentado
En Super Sentai, las tensiones son altas. Cuando alguien no confia en alguien, es posible que le pueden sacar una arma or peor. Violencia es solo una de las cosas, es inevitable que va a pasar porque siempre estan peleando. Como por ejemplo, en Kamen Rider Ryuki, los hombres peleando con pistolas y karate, y tambien habia una situación de rehenes con pistolas. En Dairanger, habia karate, sangre, y muerte por ejemplo. En telenovelas, pistolas son comunes y también son las persecuciones de carros, que en Kamen Rider y Super Sentai son abundantes. Recuerdo haber visto una telenovela, que un carro derrapó hacia un lado y explotó.
Heightened Drama
In Super Sentai, tensions are high. When someone doesn't trust someone, it is possible that they may draw a weapon or worse. Violence is just one of those things, inevitably going to happen because they're always fighting. For example in Kamen Rider Ryuki, men fightwith guns and karate, and also there was a hostage situation with guns. Dairanger had karate, blood, and death as another example. In soap operas, guns are common and so are car chases, which in Kamen Rider and Super Sentai are abundant. I remember seeing one telenovela, which a car skidded sideways and exploded.
Romance
Aunce romance es muy comun en telenovelas en la forma de bodas, sexo, y engañado, solo habia un beso en Power Rangers, y claro no habia sexo. En Super Sentai, si hay bodas. Por ejemplo, la foto arriba es de Hikaru y Urara casando en Magiranger pero fue interrumpido por una amiga en angustia, sangrando. Es como yo dije premiero, drama aumentado.
Romance
Although romance is very common in telenovelas in the form of weddings, sex and cheating, there was only ONE kiss (I think) in Power Rangers, and of course there was no sex. In Super Sentai, there indeed are weddings. For example, in the picture above is of Hikaru and Urara in Magiranger, but it was interrupted by a friend in stress, bleeding. Like I said before, heightened drama.
Muerte
Muerte solo pasado un pocito en Power Rangers, pero nadie se quedo muerte, solo en RPM. En Super Sentai y Kamen Rider, muerte pasa todo el tiempo. Casi todos se muereron en Ryuki. En telenovelas, gente regresa de la muerte. En Power Rangers, Kendrix, Mike, Gem y Gema regresados de que los otros piensado estaba muertos. Y muchos de ellos de Ryuki regresado de la muerte. Pero en Super Sentai, mucho del tiempo, se quedo muerto como in Bioman, Zyuranger, etc.
Death
As I have covered so many times before, death only happened a little bit in Power Rangers, but no one stayed dead, only in RPM. In Super Sentai y Kamen Rider, death happens all the time. Almost everyone died in Ryuki. In telenovelas, people returned from the dead. En Power Rangers, Kendrix, Mike, Gem y Gema returned from what the others thought was death. And many of Ryuki returned from the dead. But in Super Sentai, a lot of time, stayed dead like in Bioman, Zyuranger, etc. except some exceptions in teamup specials and Gingaman.
Drama familiar

En Power Rangers, mucho Rangers tenia padres muertos (como Cole, Hunter, Blake, y otros). Esto también es común en Tokusatsu. A veces los padres se creen ser muertos como en Magiranger. En Velocidad de Luz, el Capitán Mitchell se había arrepentido perder a su hijo, pero luego lo recuperó y tuvo tanto a su hija e hijo como Rangers.
Muchas telenovelas tiene que ver con familias.
Family Drama
In Power Rangers, many had dead parents (Cole, Hunter, Blake, and others). This is also common in Tokusatsu. Sometimes parents are believed to be dead like in Magiranger. Just for one example, in Lightspeed Captain Mitchell had regretted loosing his son but later regained him and had both his daughter and son as rangers. Many soap operas has to do with families.
Hombres En Bolas
Porque telenovelas son para mujeres, ay muchos hombres sin camisas, encluso en soap operas en Ingles. In Power Rangers, solo un poco, y tambien un poco en Super Sentai y Kamen Rider para las mamas de los chicos.
Eye Candy
Because telenovelas are for women, here are many shirtless men, including American soap operas. In Power Rangers only a little, and also a little in Super Sentai and Kamen Rider for moms, I've mentioned this before as well.